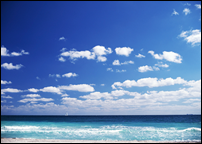 "Are we all in" – asks Hunter Richards on The Software Advice blog in his Monday post, giving a view of Microsoft's Cloud strategy in perspective of Microsoft Dynamics. He argues that while Microsoft is indeed betting heavily on the Cloud, its Dynamics line of products is not nearly ready for the Cloud.
In his argumentation, Hunter gives four challenges that Microsoft is facing, and that are main obstacles in Microsoft's way to Cloud Dynamics ERP: architecture, multiple products, partner channel and market readiness.
I believe in the Cloud. And I believe in Microsoft Dynamics ERP in the Cloud. So I do not agree with Hunter's views on this, and here I'm offering a counter view. Okay, I must say that my views are limited exclusively to NAV, so whatever I say applies to NAV, and may not apply to AX, SL or GP.
Architecture
Hunter argues that "the current Microsoft Dynamics ERP products are built on a single-tenant, hybrid client/server and web-enabled architecture". I can't agree to this.
First, single-tenancy vs. multi-tenancy argument. It's simply not true that NAV is single-tenant. Customization does indeed limit multi-tenancy in one database, but does not limit multi-tenancy over multiple databases on the same server.
You have two choices available:
Putting many customers in the same database, in different companies. All customers would share the same functionality, but every customer would have a different configuration and access to their own data only.
Putting many customers on the same SQL Server, in different databases. Everything is separated, so every customer can have separate functionality and specific customizations.
None of these approaches makes it more difficult to establish a multi-tenant environment, and it's completely up to the choice of the provider. Customizations and multiple databases make Cloud application provider's life more difficult, but doesn't technically limit multi-tenancy in any way.
Also – multi-tenancy in the same physical environment per se is not a requirement for Cloud applications. Cloud is all about resource sharing and resource utilization. Does it make an application less cloud if you maintain ten virtual machines for ten different customers, all on the same physical server, and keep it all transparent from the end users? No, not at all. Cloud provider often charge customers by resource utilization, and you can measure resource utilization regardless of single-tenant or multi-tenant approach.
Then, about "hybrid client/server". I don't know exactly what's hybrid in NAV's three-tiered architecture, because there is a true client and a true server. Also, it's not client-server architecture, it's multi-tiered architecture, and there is a big difference between these. Cloud doesn't require client/server architecture, but a distributed architecture, and NAV does have a distributed architecture.
Hunter also says that Microsoft Dynamics ERP products don't have a pure web architecture. Yes, that's true. But again, this is not a requirement for Cloud applications. Cloud means "over Internet", not "over web". Deploying NAV RoleTailored Client in an App-V scenario and running it over Internet can be deployed (and operated) in both hosted and Cloud scenarios.
Multiple products
Hunter argues that different products (AX, NAV, GP and SL) make it difficult for Microsoft to go Cloud. I don't think so. These are four different products with four different product teams behind them, and each of them can go into the Cloud independently. Office is in the Cloud independently from SQL Server or Exchange or SharePoint or CRM or anything. There is no Microsoft Dynamics ERP. There is Microsoft Dynamics NAV, and Microsoft Dynamics AX, and Microsoft Dynamics SL and Microsoft Dynamics GP, all with their own strategies, roadmaps and everything. No need to see this as a burden. It was a burden while Project "Green" was alive. Now that it's been dead for over 5 years, there are no problems with having four different ERP products, each reaching for the Cloud at its own pace.
After all, each of these products has different customers, different markets, and different Microsoft partner channels behind.
Partner channel
Hunter is right here. Partners absolutely need to change their ways. A model where you can sell a handful of projects per year, and live off services fees simply doesn't scale to the Cloud, and different sales, support and operation approaches definitely must be adopted by anyone aiming for the Cloud.
However, I don't think Microsoft risks anything by upsetting the VAR channel by enabling Cloud for Dynamics. Microsoft would risk everything by not doing so. Five years down the road, Cloud will be mainstream, and if Microsoft wouldn't be ready by then, it would be dead another five years down the road.
The same applies to most of VAR channel – if they don't adapt, and don't recognize the paradigm shift currently underway, they are risking becoming a next Associazione Marittima di Sabioncello.
Market readiness
Hunter makes a point here as well: market is by large not Cloud-ready at this time. But this is already changing. In two years, it will be ready. In five years, Cloud will be mainstream. So, I don't agree with Hunter's "we're just not sure when". If we aren't, are we just putting our Joo Janta 200 Super-Chromatic Peril Sensitive Sunglasses on?
Also, we need to understand that Cloud is not a uniform market. Big corporations are going to be slow in shifting to the cloud. It's going to be a decade, or even more, before Cloud solutions are truly attractive to big companies. Small companies can—and do—shift to the Cloud easier and quicker.
About Microsoft market—is it demanding Cloud solutions? Well, yes, and no. Microsoft's technology is at this point very much on-premises. So you could say that they aren't demanding Cloud solutions, because Windows and Office are still not there. Does it make a Cloud offering less attractive? Absolutely not. There is no correlation between using on-premises software and being capable to benefit from (or even demanding) a Cloud solution. Was anybody demanding PCs thirty years ago? No. Back then, as well as now, everybody is demanding cost-effectiveness. And Cloud can already offer that better than on-premises can.
It's the shoe sales opportunity story. A shoe manufacturer seds two salesmen to a poor third-world country to investigate market opportunities. The first one calls back disappointed and says: "no business for us here, nobody is wearing shoes." The second one calls enthusiastically: "nobody has shoes here, a tremendous market opportunity!"
Who creates market? The customers, or the providers?
Of course the market is not demanding a Cloud solution if nobody is developing that market. And here is the biggest issues current partners have: very few of them are actually developing the market. For the Cloud, they will have to start doing so. Whoever starts first, will reach farthest.
Are we all in? You tell me.