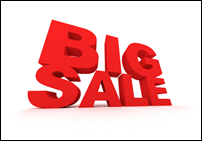 One of the takeaways from my Microsoft experience will undoubtedly by my attendance of Microsoft Services University, where all Microsoft's consultants are ramped-up in a 15-or-so days intensive program. One of the things I will never forget, is when a presenter (kill me if I can remember his name) asked the 100-strong audience:
– How many of you here work in sales?
A couple of shy hands went up.
– Well, let me tell you something – the guy continued – you ALL work in sales!
And yes, he was absolutely right. If you are a consultant, like it or not, you do work in sales. So, one off-topic post, which is not completely (or not at all) off-topic is a short write-up of a post by Drew Stevens on RainToday.com, with (unpredictably, eh?) the same title as this.
So, if you are reading this blog, chances are you are a consultant. If you are a consultant, you work in sales. And if you do any of these seven things, well, you should consider either not working as a consultant, or improving your skillset:
Poor Service: stuff such as being lousy at what you do. Helping your NAV customer adjust inventory cost, and then deleting the whole general ledger in process.
Bad Communication Skills: if you reply with a head-wide smile and "so, how's the weather" when your customer asks you "how can you help us with supply chain optimization", you are not doing well. If you jump at your customers with "you have no clue at that, let me show you how to…", there is room for improvement.
Failure to Follow Up: you promise you'll call them, then you don't. Not good.
No Preparation: "er, we provide services you know, which um, kinda help our customers, er, with certain, er… I mean.. problems" kind of pitch. Or if your "how many retail stores do you have" question returns only blank stares, it might have paid off to prepare for a meeting with your prospect in public relationship business.
Poor Language Skills: having a Homer Simpson vocabulary pays off if you watch football and drink beer with your pals. You should master the vocabulary of your profession, and also of your customer's.
Inability to Take Action: laziness. I'll do it tomorrow. Or day after tomorrow. Or next week. Well, was it urgent? Ah, but you should have told me so. Nah, this won't work well.
Failure to Build Relationships: okay, if you may end up watching football and drinking beer with your customer – do that! You might close more business doing so than cold-selling, up-selling, cross-selling or any other selling. Trust me. I've tried that, and it worked.
So, all in all, a very good post which made me take action (point 6) and improve my service to you (point 1), maybe also build my relationship with you (point 7, in case you decide to take this opportunity and build your relationship with me by leaving a comment and sharing your experience, flaming me or just plain saying "hello"). Go – check the original post, and then share your thoughts. Will it help you do your consulting work?
BTW – I apologize to all of you who might have received this blog post through the RSS subscription BEFORE it was actually completed. My wireless keyboard is out of battery and has started sending random keystrokes all over my room. I've been undoing the mess it created for five minutes (including trashing fifteen printed copies of this blog post

)
And another BTW – many of you have asked me if I have stopped blogging again. By all means – NO, I haven't. I would just say that the life interfered. I'm still alive