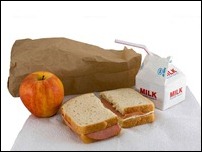 Microsoft's DPE team in Central and Eastern Europe (CEE) has started organizing a so called brown bag sessions for NAV developers, as a part of developing a Microsoft Dynamics Community in the region. As a part of this initiative, I will deliver a brown bag session tomorrow at 9:30 AM (CET) titled "Connecting to NAV through Web services".
Sessions are delivered through Live Meeting and are by-invitation only, so if you want to participate you must be an employee of a Microsoft partner company in CEE region. If you haven't got an invitation, and you are entitled to participate, please contact your local Dynamics lead at Microsoft (or Partner Account Manager) and ask them to send you the link.
Unfortunately, due to wider audience of my blog, I can't post the Live Meeting link here, but after the meeting I'll post the link to the recorded session, so you will be able to view the session on-demand even if you have not been able to attend it live.
Agenda
This is on the agenda for the tomorrow's session:
NAV before Web services
Importance of NAV process integrity
Web services setup and configuration
Types of Web services
Calling various NAV Web services
Issues and caveats with NAV Web services
All of the above will be accompanied by comprehensive demos. The session will take 90 minutes, plus another 30 minutes reserved for Q&A.
Is this relevant?
Yes, and no. If you are from United States, Western or Northern Europe, Australia, New Zealand and such, all of this is yesterday's news because you have had NAV Web services around for a couple of years already.
If you are from Central or Eastern Europe, or any of those countries getting the first localized version of NAV 2009 today, then this is pretty relevant, because for most of you this will be the first encounter with Web services—this is also why the session covers the basics.
I'm looking forward to meeting you tomorrow!