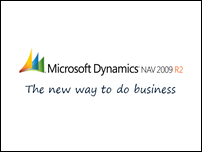 I'm growing increasingly impatient as the progress bar on my File Transfer Manager is approaching 100%. Behind the cryptical download title—Dynamics.NAV60R2.HR.1097366.DVD.zip—hides the much awaited Microsoft Dynamics 2009 R2 HR (Croatian) release of Microsoft Dynamics NAV.
Yes, Microsoft Dynamics NAV 2009 has officially shipped, and you can download your copy at Microsoft Dynamics NAV 2009 R2 download page. You can also access the NAV 2009 R2 Launch Portal.
This is the first time ever, that any NAV product has shipped simultaneously in 43 countries in the world. For many countries, mine included, this is also the first release of NAV 2009.
So, what's new in this release? Besides the new client (RoleTailored Client, or RTC) and Web services (seeing runtime for the first time in my part of the world), there are plenty of exciting new functionalities brought by R2. Here's a short overview with my comments on how important I see those thingos:
Microsoft Dynamics CRM Integration: This is important, but not crucial, at least not for my country. CRM is still prohibitively expensive over here, and I don't see many customers investing in CRM as long as pricing stays where it is. For those who have NAV and CRM, this is fantastic news, as it makes it very simple to integrate relevant data between NAV and CRM, saving time and money and increasing productivity.
Online Payment Service: Enables NAV to process online payments through major credit cards and other payment providers (such as PayPal). This is the first in a hopefully a range of Cloud services for Microsoft Dynamics NAV. In itself, at least for me, it is not a critical thing. Not because it works only in US and Canada, but because it is trying to make you believe NAV is a retail management solution. It's not. If you are not a retailer, you are not going to benefit much from this. Also, if you are, and if you are not doing much business over Internet, you are not going to benefit from this either.
RoleTailored Client Access for Remote and Roaming Users: Now we are talking business. This is a fantastic improvement over previous versions as it allows access to NAV Server through RoleTailored Client over Internet, without a need for a VPN channel. In order to make the communication even more secure, you can deploy a SSL certificate to the NAV Server. This now enables true NAV hosting, as no Remote Desktop is needed, meaning less licensing costs and better user experience.
Treemap Analysis and Timeline Visualization: Nothing more than a couple of new client extensibility controls, building on top of technology introduced in NAV 2009 SP1. I expect many more of these to swarm the market, both from Microsoft and from partners, as this provides one of the biggest partner opportunity of all in NAV 2009 SP1+. In itself, I don't find it too exciting, it's just a couple of controls. There should be many more useful controls in NAV 2009 by now.
Windows 7 User Experience Improvements: NAV now integrates better with Windows 7 shell, so you can gain access to useful NAV functions directly from the NAV application icon in the system taskbar. Nice, but not a headline news.
Filter on Subforms: One of those "should've been there since beginning" features. It is not a productivity booster or anything, but still it tells me that folks at Vedbæk are serious in improving RTC functionality and enhancing it to eventually surpass all functionalities of the Classic client.
.NET Interop: Now this is something worth the buzz. Finally, from C/AL code you can call .NET assemblies directly. You can make wonders with this, and I can hardly wait to lay my hands on this. Being in a middle of a project relying heavily on .NET functionality, I believe this guy is going to enjoy a lot processor priority on my Thinkpad.
System Indicator: This one has been missing from NAV for a long time. This simple feature makes it simple for you to immediately see which database, company and Server you are working with. Even better—it is completely customizable, with text, colors, etc. so if you want it to bear a custom message, such as "Booya SAP!" you can do it. (Please do it! )
Page Designer Improvements: Okay, this was expected. Designing pages was not exactly fun, and with additions such as container highlighting, factbox selection, etc. it's still not going to be fun, but at least is going to be as frustrating. Still, I believe that proactive form transformation strategy is going to be the prime approach for designing pages for many partners.
Lock/Unlock Support in Object Designer: Again, we are talking serious business here. Developer teams working in a single development environment can now really experience team development beyond "which idiot trampled over my codeunit 12?!#$@&". Developers can lock the objects they are working on, and see which objects have been locked by other users, and if somebody has locked an object and then gone fishing, you can force-unlock the object and keep developing even if the other guy gets eaten by sharks. Even though this little innocent feature is retiring my Automated Version Management 2.0 Tool (which was downloaded from Mibuso 1187 times, and hopefully used by at leaast 1% of those), I'm going to love this.
Go-to Definition: Another one that developers are going to love, which is truly improving development experience. You can now easily jump to the definition of a function you are working with, even if it resides in another object. Seeing this inside C/AL, I wonder, why don't the product team just port the development to Visual Studio, the development effort invested so far to make C/SIDE be better would have resulted in an integrated Visual Studio development experience. I hope it happens sometime down the road, preferably while I still care
Report Dataset Refresh: Another development gizmo, which simplifies the development of RDLC reports, albeit not too much. You can now add new content to sections of the report, then immediately refresh the RDLC layout in Visual Studio without having to restart it. A possible "so what" feature, but when you will need this feature, you are going to love it.
One of the things suspiciously not present in the What's New Document is the support for App-V, which is as important as any of the above. I hope it's not excluded, because it was being announced with fanfare over the past several months.
As you can see, there are more technical improvements than functional ones, and I believe this is what we are going to experience over the next couple of releases as well. Since NAV is obviously marching into the Cloud with big 7-mile steps, technical improvements such as these seen in R2 are indispensable. My download has finished, and I can't wait to start installing, so excuse me if you please, I have stuff to do