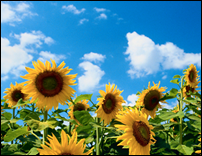 The Software Advice blog has started a series of short five minute interviews with Microsoft executives in charge of Dynamics technologies, and today's one has caught my attention: it's entitled Can Microsoft Dynamics ERP move to the cloud, and the interview was with Guy Weismantel, director of ERP Marketing at Microsoft.
Cloud computing is something that has been tickling my imagination ever since I first heard the term, and I've spent past couple of years not only thinking how to do something with the cloud, but actually doing it (stay tuned!), so it was interesting to see what's Microsoft's unofficial official position on ERP in cloud perspective, can it be done, should it be done, where is it all going, etc.
From this interview it's obvious that Microsoft is very much aware of the paradigm shift being underway and that they are not missing the huge opportunity there. However, it is also clear that Microsoft doesn't have a full cloud ERP offering either ready, or underway. They are focused on Azure platform, and they are leaving the cloud offerings in the domain of what they like to call the "partner opportunity".
That partner opportunity at this stage seems to be mostly in the area of value-adding applications which are build outside of ERP, hosted in the cloud, and then integrating back to on-premise, which is a logical first stem in the transformation, and Microsoft itself has already moved there with their online payment services.
There was a direct question about whether Microsoft will build a full cloud ERP offering, and from the answer it seems quite clear that the focus is not there, but on growing the Azure platform into something that then can be used as a habitat for a range of applications integrating with ERP, but it also seems that Microsoft wants to be there at some yet undefined point in the future.
There seems to be also slight misconception in interviewer's questioning, which is equating cloud with web, which is simply not the same thing. While cloud applications mostly are accessed through a browser, this is not a prerequisite. Cloud is more about self-provisioning and multi-tenancy (the latter is indeed a theme of the interview), than about web applications accessed through a browser. If you ask me, NAV is technically ready for full cloud offerings, some of them are already out, some of them will be soon (as I said, stay tuned

).
If you want to check my own angle at NAV in perspective of cloud computing, why not checking my latest article at MSDynamicsWorld.com – that's precisely what I talked about. Check it at: Navigating the New Cloud Opportunities of Microsoft Dynamics NAV 2009 R2.