My last two webinars were a great success, and this is not only judging from my angle. Attendees were very happy with them, and the feedback I received was overwhelmingly positive. I've got a lot of inquiries about repeating them, and I also got a few ideas for new ones that would allow you to build on top of the knowledge gained in the first two.
So, today I am announcing the schedule for the webinars for the next three months.
Schedule
First of all, the schedule. There is a new Trainings and Webinars landing page I created. You will always be able to access the schedule for the upcoming period from there.
Let's look into what's coming up in the next period.
April
On April 21-23, I am repeating the Leveraging Git webinar. It was the first I did, and it was a kind of a test to see whether it makes sense to do the webinars at all. For me, it was also a kind of a learning ground – it helped me figure out what works, and what doesn't, and what I should do and not do in these webinars.
So, the April delivery won't be the exact copy of the January delivery. The sessions will be shorter, I've cut quite some content from it and I've integrated some of it into other webinars. In any case, the webinar is now more to the point, more focused, and far easier to follow.
May
On May 17-18, I am delivering the new webinar named CI/CD from AL developer's shoes. This one goes deep down into some development topics that I slightly touched in my February delivery of the Git Branching and Strategies webinar.
The problem with continuous integration and delivery is that most people see them as exclusively infrastructure topics, and address them from the angle of pipelines and DevOps automation. However, continuous integration and delivery as disciplines and processes were conceived and defined well before there were any decent DevOps tools, and they are preeminently development topics.
And this is what this webinar addresses. It will be quite interesting, and it will be 100% focused on AL and Business Central development. Don't miss this one!
June
And finally, on June 14-15, I am repeating the Git branching models and strategies webinar.
Just like the Leveraging Git webinar, this one won't be an exact copy&paste of the February delivery. I've moved some topics from this one into the CI/CD from AL developer's shoes webinar. This will make it easier for me to focus on the Git parts, rather than spend time on development patterns and best practices.
Are people satisfied with my webinars?
Well, I dare say "yes" to this one. Generally, the feedback was quite positive, and I even said "overwhelmingly positive" in the introduction to this post. But let's take a look at the numbers.
After the January delivery of Leveraging Git, people said this about the webinar: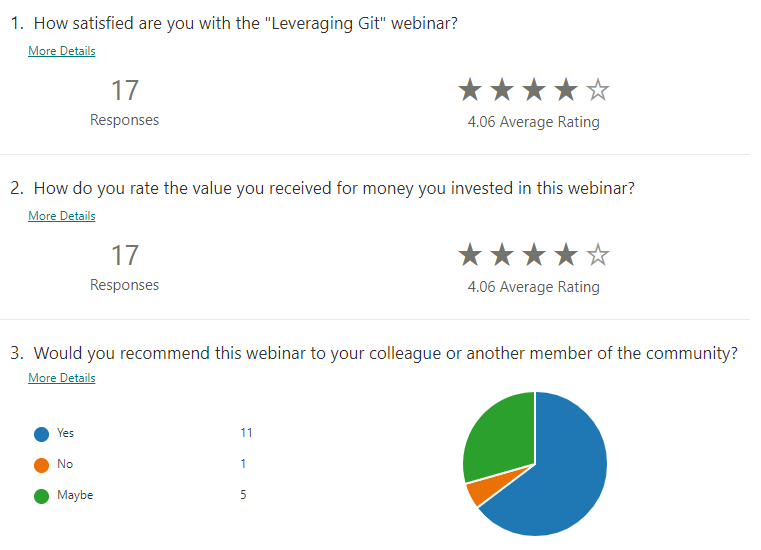 So, not quite "overwhelmingly" positive, but quite positive. This was my first webinar, and I've done some of things I thought would work, but they ended up not working, and people let me know about them. Still, for the first delivery, and average ratings for – for example – TechDays pre-conference workshops being at around 3.5, these numbers are very reassuring.
So, as I said, there was some criticism in the feedback, and I've taken it into account. So, the second webinar yielded these numbers: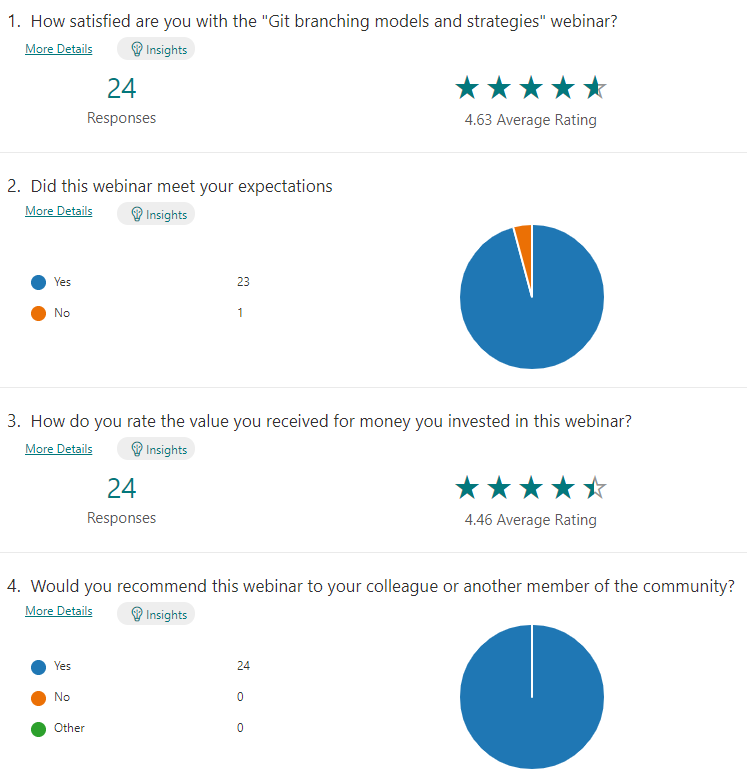 And this is quite an improvement. First of all, the ratings metrics jumped from 4.06 to 4.63 and 4.46 for satisfaction and value for money respectively. Then, the "would you recommend" rating jumped to a clear 100% positive here.
Unfortunately, there was an attendee who felt the webinar didn't meet his expectations. However, when he listed the things he expected from the webinar, none of them came from the webinar description and the announcement. I am always sorry when my training misses the mark, but I can't make my trainings aim for hitting other marks than those set in the syllabus. Still, even though this guy felt he didn't get what he came for, he would still recommend the training to others (and he rated value for money at 4/5).
What have I changed and what I am still changing?
In the past four months that I've been announcing, preparing, and delivering these webinars, I've talked to people who attended them, or wanted to attend them, or explicitly didn't want to attend them for various reasons (prohibitive price being named, for example).
Price
Yes, the first webinar probably was very expensive. At 500€ it was quite an ask. In fact, nobody ended paying this price, there were early-bird discounts, as well as discounts for signing-up for the full package, so it ended costing less. But still, I've quickly realized that I should have asked for less.
Then, in the defense of the price, you can't imagine how much time I put into preparing these. One hour of webinar amounts to around two full work days of research, preparations, and – especially! – visualizations.
And this work I put into the webinar shows. Without it I wouldn't be getting these:


And I want these. And I don't want them because I want people to praise me for doing this, but because I deeply care about people understanding the topic and I deeply care about getting my message across as clearly as possible. That's why I put so much effort in this, and that's why the price I asked for the first webinar was high.
But still, I've decided to take the price down, a lot. My second webinar was at 250€ and after that one I actually asked people directly about the price. This is what they said:

Those in the "Other" category, one said between 100€ and 300€, depending on content, and one said 100€. This sets the price for at exactly 200€ on average, and I think it will probably be a price I reach in the future. For now, I have reduced the price for the Leveraging Git to 325€ (down from 500€) – it's still a 6-hour, 3-session webinar. For the others, I'll probably get the price down to 200€.
Please, let me know if the price is the factor that's turning you down. I know that for at least one person it was – I've got a direct "I would have joined if the price was reasonable" comment. If you fall in this category, please let me know – I don't want to make these webinars too expensive. But then, I don't want to lose money on them. You know, if I spend close to 50 hours preparing a webinar, I simply can't deliver that for free. But maybe I can strike a good balance between the presentation preparation and duration. I'll see – there are new webinars coming up, and I'll continue to learn from them.
Business Central and AL angle
The next thing I am definitely changing is that I am shifting focus more to the Business Central and AL side of things. The CI/CD from AL developer's shoes webinar is entirely focused on AL, but the other two were originally focused almost entirely on the Git part. I still think that the Leveraging Git one should stay 100% in the realm of Git – it's about Git internals and how Git works on the inside and how Git processes themselves work; I don't see how I can make this one more AL-biased. However, regarding the Git branching and strategies webinar, that one will be told a lot more from the AL angle the next time than it was the first time.
Still – keep in mind: Git webinars are about Git, not about AL. AL webinars are entirely about AL. And yes – I'll try to give as much Business Central angle to Git webinars as it makes sense for the topic being presented. How Git stores things internally has nothing to do with Business Central (or vice versa); but how to branch-off and when can have a lot to do with Business Central, so that's what you can expect me to do in the future.
Duration and speed
Then – duration and speed, and this has a lot to do with the amount of content. This is probably the #1 reason why I got lower ratings from the first webinar than the second one. The first webinar was three 90 minutes session which could have easily been four 90 minutes sessions. I spoke too fast, and people let me know that right away.
So, my future webinars will be (mostly) 75 minutes per session. And – as people who attended both the first and the second can attest – I won't speak as fast. I'll simply cut all unnecessary (or less relevant) content out and focus on delivering the most important things. A webinar where you go home with two valuable takeaways that make a positive influence to how you work is far more valuable than the one that dumps a million "takeaways" and then confuses you.
So, 75-minutes per session, less content, more time left for the presented relevant content to sink in.
One very important change here that I did to my existing webinars is that effectively the Git branching models and strategies started off from the content I cut from the Leveraging Git webinar. And CI/CD from AL developer's shoes has also started off from the content I cut from the Git branching models and strategies webinar. So – I am not really throwing any of the valuable content into trash bin – I am simply spreading it around webinars that will have more focus and won't wander away from their central topic.
Hands-on practices
Finally, one thing that won't happen in my webinars in the future is the hands-on practices. I made them a part of my first Leveraging Git delivery, but I quickly realized they don't work. And then people told me that directly. Probably another reason why the rating averages were lower than the second webinar where I had no hands-ons.
It turns out – it's impossible to do hands-ons in the virtual presentation environment. I've heard as much from other people doing webinars, but I thought I was smarter. Turns out I am not. So I've dropped trying to squeeze in practical part into a format that's primarily theoretical.
You can easily compare it to TechDays – you have pre-conf workshops that incorporate hands-on practices, and then you have 90-minute sessions that never have them. The webinars are far more like sessions, than like workshops.
However, what I will do in the future, is that for webinars that address a practical topic (like the upcoming CI/CD from AL developer's shoes webinar) is that I'll prepare a short practices booklet with hands-on practices you can do at your own time if you want.
That's it. I hope I will see you in one of the upcoming webinars. And please – share any thoughts you may have around webinars. What is it that you'd like me to talk about? What do you think is a fair price? How often do you want me to deliver them? Do you want me to repeat the ones I already did? Remember, I am doing these webinars for you, and they will work only as long as you get what you expect.
See you in the cloud!