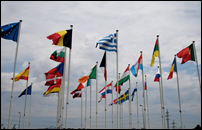 你好,世界!გამარჯობა, მსოფლიო! હેલો, વિશ્વ! مرحبا، العالم! שלום, עולם! नमस्ते, दुनिया! こんにちは世界 ಹಲೋ, ವಿಶ್ವದ! 안녕하세요, 세계! Γεια σου, κόσμε! Привет, мир! வணக்கம், உலக! హలో, ప్రపంచం! สวัสดีโลก!
No, no, I didn't go fully crazy yet, but I'm surely closing in. Maybe it's not at all such a big deal as I see it, but the new Unicode support in Microsoft Dynamics NAV 2013 is just blowing my socks off. After a quarter century of being tied to a single code page of choice, NAV has finally been freed of it's single byte per character legacy.
So, the scribble above is not just me showing off with my ability to use Google translate, it's a playground for you to copy select pieces of it and paste it all over NAV text fields in your NAV 2013 installation. You have one, don't you? If not, go grab your copy!
This Unicode thingy, it was obvious this was coming. It was not exactly officially confirmed earlier, but with the good riddance of the Classic stack, and having the whole new stack built entirely upon .NET Framework and SQL Server (which had Unicode since ages), retaining ASCII would actually required far more work than simply adding the so much desired n in front of all those varchars in the database. In memory, everything was Unicode already anyway and if you have been in Antwerp at NAV TechDays last year, you may remember this presentation with the demo.
With NAV 2013 beta out, the sheer number of news is frightening, and I hope I just get enough time to blog as much as I'd love to. But I'm sure my colleagues would kick-off as well, and there will be oceans of useful information about NAV 2013 pouring in. That I can promise.