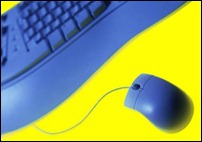 I am one of those people who only use keyboard with NAV. Classic, of course. Seriously, I can keyboard my way through NAV and do literally everything—and I am dead serious about the everything part of it—with only my keyboard. With Classic, mouse is quietly resting under piles of papers. In RTC, mouse is an active animal.
Yes, absolutely, this is the number one reason why I never adopted the RoleTailored Client and I still use the Classic one extensively. (Another one is a minor and an irrelevant fact that NAV 2009 still isn't available in my region.)
So, in hope that this blog finds its way to the right address in Vaedbek, Denmark, I'm compiling a list of less-known or less used keyboard shortcuts that I use to navigate through Classic client, which mostly can't be achieved (or can't achieve exactly the same goal) in RTC.
This is not a definite list, and it might be lacking correct information. I'd like to turn this into a reference of "what's still missing in RTC" over time, and I hope pretty soon the right column gets filled in completely (with stuff other than "not possible", preferably).
So, here it goes:
Action

Classic

RTC

Switch between application modules in Navigation Pane.

Ctrl+Alt+Up/Down arrow

No simple shortcut:

F12 to get to the Navigation Pane, then Tab to get to menus, then up/down arrows to select, then Enter to enter the selected menu, then Shift+Tab to get back to the list of menu items in the menu.

Navigating in Navigation Pane of a single application area.

Up/Down arrow to move up or down.

Left/Right arrow to expand/collapse a group.

Enter to open the selected object.

Up/Down arrow to move up or down.

Left/Right arrow to expand/collapse a group.

Enter to open the sub-departments, then twice Tab to enter the sub-departments list, then some more Up/Down to select the object, then Enter to open the selected object.

Switch between Navigation Pane and active form/page.

F12 to switch to Navigation Pane.

Ctrl+F12 to switch to active form.

F12 to switch to Navigation Pane.

Not possible to switch directly to active page.

Tabbing to next control (in tab loop)

Tab

No tab loop in RTC.

Moving to the control right/left to the current control

Right/Left arrow

Not possible

Moving from lines subform to header (tabs)

Ctrl+Up arrow

Shift+F6 (but only returns to General FastTab, or the first FastTab available)
And now for some funny ones:
| | | |
| --- | --- | --- |
| Action | Classic | RTC |
| Select all | Ctrl+A | Not possible |
| Trigger validation of a field | F2 | Not possible |
| Lookup standard texts | ?, Enter | Not possible |
| Mark | Ctrl+F1 | Not possible |
| Clear filter from active field | F7, Del, Enter | Not (easily) possible |
| Field filter | F7 | Not (easily) possible. Several workarounds, but nothing actually equal or close to what F7 did. |
| Table filter | Ctrl+F7 | Shift+F3, but really unusable thereafter. |
This is just some of them that I remembered quickly. I know it's all yesterday's news, because RTC has been around for two years, but the problem is – this is still not solved.
However, after having participated in some implementation projects and delivered a number of What's new in NAV 2009 trainings, what I can say is this: I'm not alone at complaining about this.
So, if you want to really improve user experience in RoleTailored client, Microsoft should think about making it keyboardable. It would suck the Classic bit the dust before the stuff above still required me to use mouse. Mouse is not my kind of exercise—I prefer fitness tubes.