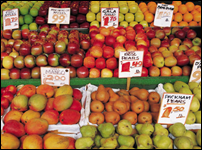 Years ago, when I didn't know what consultant was, let alone thought about eventually becoming one, I was sitting in a cafe in Zagreb with then my boss and now my friend Marko, sipping cream with coffee and mostly sharing random thoughts. He then introduced me to a commodity-convenience-solution concept which shaped a lot my customer approach and my work.
You might be a customer of an ERP. Or you might be a company offering implementation services to customers. In any case, this post is for you—how you think about your ERP implementation project(s).
Commodity.
You go to a shop to buy bread and milk. You are shopping for commodities. Your bread will be about $2, your milk about the same, and various brands will come at a slight price difference. You do have certain quality criteria, but once those are met, you won't be paying $5 for a loaf of bread or $4 for a liter of milk.
Commodity is cheap, and you often shop for price. Almost everyone needs commodity. Almost everyone can also afford commodity.
Convenience.
Then you have convenience. Not everyone needs them, but having them around makes life more, well, convenient. A car for example. You don't absolutely need to have one. You can walk. Or take a bus. Or ride a bike.
Convenience is also something not everyone can necessarily afford. When shopping for convenience, price is important, but it's neither the final nor the most decisive factor. If it were, nobody would ever purchase a Lexus or a Rolex. Why would anyone pay $5,000 for a Pioneer plasma screen when at $2,000 an LG can give you an almost indistinguishable experience?
Convenience is more expensive than commodity. It is also a lot cheaper than a solution.
Solution.
Finally, there is solution. You can't just buy a solution off a shelf. There are no solution stores. Solutions are there to solve specific problems, that can't be otherwise solved with anything pre-packaged or readily available.
When a pipe breaks in your house, you need a solution. When your warehouse is clogged and your inventory throughput is low, you need a solution.
Specific problems require specific approaches, often totally unique, often never tried before. Solutions can get ridiculously expensive. Ask British Petroleum, they know.
What does this have to do with ERP?
As a matter of fact, it does.
ERP can be any of the three. And it's you who chooses which one it is.
If all you need is printing invoices and controlling you customer balances, then you need a commodity ERP. Why would you pay thousands of dollars per capita just to print invoices? There are a dozen a dime ERP or accounting applications which can give you exactly what you need at $100 per head, or cheaper.
If you are looking into a standard solution, such as all those companies implementing SAP to standardize their processes, you are into convenience. Price levels can vary, but your problems are still generic so you don't need any custom-made tools. In other words, if you care about what you can achieve, and not how exactly you achieve that, then you don't need a solution.
If the sales needs ERP to tell the warehouse they can start picking an order, and you don't care how exactly ERP does that, then whichever the way it is, is good enough.
If you need to track the fulfillment of your long-term sales contracts, and it's irrelevant how exactly, as long as your ERP can do it, you should be satisfied.
It's just like a car. If you need cruise control, it's cheaper to take whichever default option there is, than to build a custom one into your car. If you need electronic windows controls, wherever the buttons are, you should be equally efficient in operating the windows up and down.
As long as you can accomplish your goal (efficiently), don't touch the standard solution, and there you have a convenience ERP. More expensive than any commodity accounting package out there, but far cheaper than a customized ERP solution.
If you have specific problem that nobody else ever had, then the answer is on the third level—the solution. The expensive one. If your ERP must have a three-level approval process for releasing sales documents, managed through handheld devices on Windows CE 3.0 platform, and a central warehouse control dashboard to manage goods picking—then you need a solution. And it will cost.
So, which do you need? Think carefully.
If your kitchen desk has to be exactly 4,796 mm wide, and 655 mm high, with aluminum top for extra durability and it must have all appliances built in, and has to be of a specific color, can you buy it for $4,000? Yet Joe next door has fully equipped his kitchen with cabinets and appliances for as much. Well, he was quite happy with a confectionary one with stand-alone equipment, so he got himself a bargain. And he can scramble eggs just as well as you.
It works that way with kitchens, homes, cars, food, cell phones, clothes, holidays. And ERP. Commodity is cheap. Solutions are expensive. That's just the way it is.
Food for thought.
Couple of centuries ago, if you wanted to look decent, you hired a tailor to do your clothes for you. A solution.
Today, you go to a clothes store and pick pre-tailored clothes to your liking. It's either commodity or convenience, depending of whether you shop for label and recognition, or you are just satisfying your basic need of not going about naked.
Why are we not tailoring our clothes all the time?
Why are we customizing ERP all the time?