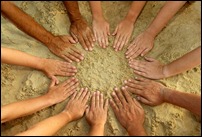 It's the second "me too" today. Waldo has started the day with announcing the new season of the Belgian Dynamics Community, which was me-too-ed by Marq announcing the Dutch Dynamics Community. It's my turn now to me-too the announcement of the Adriatics Dynamics Community. Three community announcements in a day—now that's something!
I call this community Adriatics, because it won't be limited only to Croatia—the idea is to spread it to other neighboring countries: Slovenia, Serbia, Bosnia. We kick it off in Zagreb on October 4th, with the theme of upcoming localization of NAV 2009 SP1 and Sure Step 2010.
The idea of starting a Dynamics community in this region is not new, and it took a while, in fact a couple of years, to take it from a nice-to-have concept to a deployed solution (excuse my implementation lingo). Then, two months ago, I sent couple of mails around Microsoft Croatia to solicit their support in organizing the community, and the things were then truly rolling. We exchanged series of mails, held preparation meetings, and earlier today, the invitation mails for the kick-off event were sent out.
And it took only six minutes for the first participant to register.
The idea for the community is to organize occasional (once per two months) meetings where Dynamics professionals, consultants, developers, project managers, but also non-Dynamics-related community supporters join together, share experiences, knowledge, ideas… And eat some pizza.
The first meeting is scheduled for October 4th, at Microsoft's office in Zagreb, with the following agenda:
Community Announcement, by Zoran Šegić
What's New in Microsoft Dynamics NAV SP1 by Vjekoslav Babić (we are just going to get the first localized version of NAV 2009 – measly two years after the W1 release, so it's about time we started discussing the "what's new")
Pizza break
Microsoft Dynamics Sure Step readiness, by Vjekoslav Babić
MBS Partner Readiness Plan, by Stjepan Vuković
I'm not exactly sure how exciting this agenda is, but the fact that we are having any agenda is exciting enough for me, after years of the only community activity being just eating pizza. Not at Microsoft.
I'm also not too excited that I get so much to talk, but since this is the first meeting, somebody had to break the ice, and I believe I get a break and don't actually get to speak anything at the next community meeting. We are currently preparing agenda for that one, so if you have a suggestion, and want to join – you are most welcome.
Also – we are inviting participants from other countries in the region to join, if possible in person (that's the only way you get to eat pizza, anyway). If not possible, the techies at Microsoft's office in Zagreb will do their best to organize the live meeting for people to join remotely.
You can register your participation here.
I'm really looking forward to seeing you all there. Let's rock'n'roll!