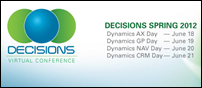 Make sure not to miss Decisions, the virtual conference about Microsoft Dynamics, by MSDynamicsWorld.com. It's starting next Monday, and I hope you already have it in your calendar. It's a four day conference, a day per Dynamics flavor (SL is the only one not being served). The best of all – it's free! Be there.
The Microsoft Dynamics NAV day is on Wednesday, June 20, and it's featuring a program manager from Microsoft, three MVPs, (at least) three book authors, and a team of seasoned professionals in a series of interesting presentations.
Just like the previous years, I'll be speaking there myself, and if you would like to join me for an excursion into the world beyond ERP, where several disruptive trends are shaping the future of the IT, and consequently the ERP. I'll take an angle at the challenges the present and the future bring, and how Microsoft Dynamics NAV faces them, copes with them, and plays along. I promise it'll be time well spent.
The conference is virtual, so you can attend it in your slippers, I won't mind. See you in the cloud!