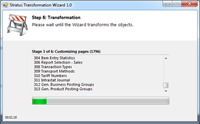 Today, Stratus has officially entered the pilot phase in Latin America, after the latest build of Stratus Setup Wizard has smoothly and flawlessly configured Stratus in a local customized version of Microsoft Dynamics NAV 2009 R2.
Through cooperation with a partner company from Colombia, Stratus will soon be commercially available in Colombia, Ecuador, Peru, Venezuela, Panama, Honduras, Dominican Republic, Guatemala and Costa Rica.
What makes me feel really thrilled, is that the month in which Stratus will officially RTM (fingers crossed!) has started with a flawless and smooth deployment of Stratus in a localized copy of Microsoft Dynamics NAV. It was a great test of the Setup Wizard which now automates most of the steps necessary to deploy Stratus. After the Windows Server, SQL Server and NAV were installed, it took less than half an hour for the Latin American NAV to appear in the browser on my iPad.
Stay tuned for the fresh news, because this month there's going to be plenty of them.