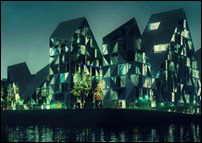 Another Sure Step course is over, this time in Århus, Denmark. I love and hate teaching this course, because it always makes me wonder why I need this, and why in the Earth I am doing this trainer's job. And then makes me happy that I do and eager to do it again as soon as possible. It also teaches me something, every time, and here are my lessons learned.
This time, it's about the exam. At the beginning of the training, I usually ask people about their goals: why are they there, what is the primary objective why they are sitting there and listening to me babble for two days? With Sure Step, the answer is an invariable: to pass the exam.
So people go there because they were sent by their employers to pass the exam, because having professionals certified in Sure Step on team is now a requirement for being a Microsoft Certified Partner for Dynamics.
So, here is my shot at how to prepare for, and pass the exam.
Do you know how? Simply: learn. There is no better advice then to just take your time, and learn.
But since I am a nice guy, I'm going to give you some hints about how to learn.
First step, take the course.
If you get a knowledgeable and experienced instructor—me for example (excuse my modesty)—you get to hear a lot of things about Sure Step that you can't read in the course materials. You also learn about what's the most important thing in Sure Step, where to look for information and how, and certain traits of Sure Step logic and principles which are nowhere expressly written in Sure Step itself or in the course, but which are consistently applied.
A friendly warning: the course itself is NOT enough to pass the exam. If you had no experience in Sure Step before, just taking the course and trying your luck will probably just bring frustration, and frowns from your boss. After the course, take at least a week to do the next four steps.
Second step, learn the document flow.
Start reading Sure Step methodology guidance with Additional Resources / Information Flow – Key Documents. If there is one thing that is worth memorizing in Sure Step, then it's the diagram you see in this page. It lists all the main activities in Sure Step, together with the main output documents from those activities, and the flow of the activities and the documents.
Nothing in Sure Step is self-sufficient, so every output is an input to something else, so you can easily trace the flow of documents. This is important, because by knowing those documents and activities they belong to, you can easily know in which project phase you are, and which activities precede, and which follow the one you actually in.
Third step, read the guidance.
Guidance is full of helpful information, but it's a jungle. Reading everything and focusing on everything, if you have no experience in Sure Step, won't be too productive. The parts of the guidance you need to focus on are pretty well explained in the official description of the Sure Step exam at Microsoft Learning portal.
47% of the exam is mostly about Diagnostic. And Diagnostic is just the first phase of the six phases in Sure Step. It means that Diagnostic must be important. On the other hand, 11% is about Operation. I'm not telling you not to know and learn your Operation phase, but I am telling you that if you focus on Diagnostic, and don't learn anything about Operation, you still stand pretty good chances of passing the exam.
Diagnostic is all about decision accelerators, so learn the seven decision accelerators: what are they, why are they used, when they work best, which need they are addressing. You can find this in the delivery guide for each of them. Open the delivery guide, read the Executive Summary, and you get a good understanding of them.
Learn your project types. Be sure you can tell Agile from Enterprise from Standard from Rapid. Learn the specifics. Play around with filters in Sure Step to learn which project types include or skip which activities. Try to answer the question "why".
Learn the project management library. Focus on those disciplines you learned in the course. Communication management. Issue management. Risk management. Sales management.
Knowing PMBOK helps a lot. Project management library is aligned to PMBOK, and any knowledge of PMBOK, or any experience in managing projects with PMBOK principles, will surely help you.
Be on friendly terms with terminology. Terminology is important. Know the official Sure Step names for documents, phases, activities, tasks, decision accelerators, optimization offerings, etc.
Fourth step, take the assessment.
Go to this page: Sure Step Proficiency Assessment. Take the assessment. It's going to take about forty minutes. And it simulates the exam. If you are absolutely sure about the answer, answer it and move on. If you are unsure, take a note about the question, answer the question to the best of your knowledge, then move on. DON'T use Sure Step guidance or courseware to help you "pass" on the first go. There is not much point in that. Just answer, and simulate the test.
When you are done, you see your score. If you "passed", then you are probably good enough to try the real exam.
The assessment won't tell you where you were wrong, just how well you did.
Fifth step, read some more guidance.
Repetitio est mater studiorum. Take your notes, and check about the concepts where you were not sure about the answer. Read the guidance for those topics, read the documentation, especially the delivery guides if they exist (they always exist for Decision Accelerators and Optimization Offerings).
Make sure you understand why you missed the correct answer.
Sixth step, retake the assessment.
Repeat the step four. Just retake the assessment. If you are sure about the answer, just answer and go on. If not, try answering to your best, then go on. In the end, if you "passed", you are ready to take the exam, otherwise, repeat step five and step six until you "pass".
If you are continually flunking—then you must be missing the point big time. If so, try doing the assessment with the guidance open, then check every question, and find the answer. Use the assessment as a learning tool. It was prepared by Microsoft precisely so that you can use it and abuse it in preparation of the exam.
Seventh step, take the exam.
By this point, you should be totally capable of passing it blindfolded and backwards.
When in the exam, a couple of hints:
If the question is long, read it from the last sentence, not from the first
Try answering the question without looking at answers
Be Sherlock Holmes: eliminate impossible, what remains is true (however improbable)
Score yourself as you go; make sure you are not flunking before clicking Finish
There.
When you are done with the exam, come and let me know if this helped. Or if it didn't.
And last, but not least, here are some useful links, some of them mentioned above, some of them not:
(Some of these require access to PartnerSource, PartnerPortal, or enrollment in a Partner Service Plan)
In the end, to my twelve students over the past two days, if the training was useful, please leave a comment, let me know how you went in the exam. Farvel, Århus! Looking forward to seeing you again.