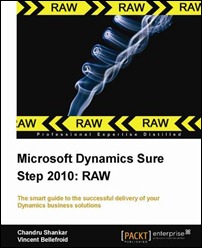 I woke up this morning with a fantastic news in my mailbox: Chandru's and Vincent's upcoming book Microsoft Dynamics NAV Sure Step 2010 is already available at PACKT Publishing's web site in a format I wasn't even aware it existed: RAW (Read As we Write). The book isn't finished yet, but you can already purchase the e-book with those chapters that have been completed.
I was aware of this book being in development, but had to stay quiet, and I was really looking forward to announcing it here. I am only sorry I couldn't do it immediately this morning.
With so much interest in Sure Step lately, I can't imagine a better time for this book to be written. Book authors are Chandru Shankar, a member of the Sure Step team and one of the people who are authoring and managing the development of Sure Step, and Vincent Bellefroid, an expert in Sure Step and a member of the extended Sure Step team, who has also participated in development of many Sure Step training and readiness materials, train-the-trainer program, and one of the leading providers of Sure Step trainings in Europe. It can't get any better than this, and this book is worth your investment.
Chandru and Vincent – congratulations! This is a fantastic addition to the world of Sure Step. And Thank You in the name of all of us working with and using the methodology!