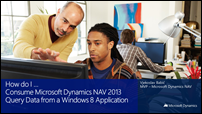 MSDN has started running a series of the How do I… videos for Microsoft Dynamics NAV 2013 (feed here). The idea is to showcase a technical feature in 5-15 minutes. The project is still ongoing, but a number of videos have just been released and announced on the Microsoft Dynamics NAV Team Blog.
The project is a joint effort by Plataan and Microsoft, and I participated as a technical expert in charge of seven videos. I've already recorded five of them, out of which three are online.
You can find the links below, and please come back to this page as I'll update it as more videos are published.
Deploying Microsoft Dynamics NAV 2013 with System Center 2012 Support
Queries, Reports, and Charts in Microsoft Dynamics NAV 2013
Microsoft Dynamics NAV and Social Media
Getting Up and Running with Microsoft Dynamics NAV 2013
I hope you like the videos, and learn something from them.