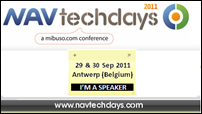 If you are a follower of Mibuso.com you may already know that they are organizing NAV TechDays in Antwerp, Belgium, on September 29 and 30, a conference dedicated to all NAV developers, solution architects and technical folks in general. The content will be strictly technical, and speaker list includes a lot of Who's Who of NAV folks including Michael Nielsen and Freddy Kristiansen, and MVPs including Eric Wauters, Jörg Stryk, and me.
It will be two days full of exciting technical sessions, mostly discussing the upcoming NAV 7 release, Cloud computing, integration and extensibility of NAV through .NET and web services, and development in general.
I hoped to deliver a session about .NET interoperability, but Microsoft folks seem to have reserved it for themselves, so I'll deliver a still nice session about testability features and how to use them to customize NAV bug-free.
If by now you are not in the "where do I click to register" mood, then let me know that if you register by June 30, you may win one of the two iPad 2 devices that nice folks at Mibuso.com are giving away to two lucky participants.
Ah, ok, now we are talking business

Here's the link: http://www.navtechdays.com/2011/registration.asp