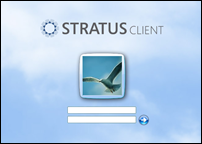 When the story you are supposed to tell reaches you from the other end, the rumor has obviously had it long enough.
So let me announce it publicly: "Stratus", the Web-based client for Microsoft Dynamics NAV I've been working on for well over a year is nearly finished. As a matter of fact, it is entering the pilot phase.
Without much fanfare, I'm turning this post into a sort of FAQ which should give you enough understanding of the product, its purpose and its roadmap.
What is "Stratus"?
"Stratus" is a generic Web-based client for Microsoft Dynamics NAV 2009.
By "Web-based" I mean it is 100% native Web product. It runs completely from Web browser without any external dependencies. No Flash, no Silverlight, no Java—pure built-in browser technologies. This also means you can run it without any pre-installation of any software on client machines. Imagine logging in to your NAV from an airport terminal or issuing an invoice from a public PC in hotel lobby.
By "Generic" I mean its primary purpose is to bring NAV functionality and experience to Web, and it doesn't care whether that functionality or experience is standard or customized. It's generic. If you have it in your NAV, you can have it on Web.
What is it good for?
It has two primary purposes: to enable full Cloud deployment of NAV for consuming NAV completely from browser, and to bring NAV to occasional and remote users.
By occasional users, I mean users who don't need ERP full-time or are using a subset of functionality (maintaining customer records, or entering purchase orders, just a couple of examples) or who mostly need read-only access to ERP data.
Remote users are all those folks who are out in the field, and who want to access NAV from their tablets, slates, mobile phones or just about any piece of equipment that can run a graphical Web browser.
What can I do with it?
Most of the things you can do from within NAV, you can also do from "Stratus". Just to list some features:
Creating new entries (master data, documents, worksheets, setup, etc.)
Modifying existing entries
Deleting entries
Data validation and business rules: all data is validated and all business rules are applied at the moment you enter the data, just like in RTC or Classic. Any data changed automatically by NAV is also automatically refreshed.
Basic process calling: you can post documents, release orders, or call any simple processes which don't require user interaction while processing.
It is multi-language enabled.
It is role-tailored: it exposes those functionality to the Web which is available to the user's role through the profile. Even the Role Center is delivered.
Can talk to the following page types: List, Card, ListPlus, Document, Worksheet, CardPart, ListPart and RoleCenter.
What can I not do with it?
At this stage of development, you cannot:
Run any reports which come with a request page.
Work with any matrix pages.
Call any advanced processes which require intensive user interaction.
Can't talk to the following page types: NavigatePage and ConfirmationDialog.
Run any charts.
Run any RTC client-side add-ons (including any .Net interop which runs client-side).
Which browsers are supported?
Most of them. It was tested in Internet Explorer, Chrome, Firefox, Opera, Safari. There are some slight compatibility issues being worked on right now, but nothing major, and there are no noticeable showstoppers. It wasn't tested (yet) on older versions, so it means you need to have the current versions of any of the above.
How is it licensed?
Final licensing model for full Cloud flavor is not defined yet, and it will most likely depend on a number of factors. Based on all projections and business plans, I can say it'll be convincingly affordable

If you want to license it as an add-on, then it is licensed in exactly the same way as Light User is licensed, at the price which is exactly equal to the Light User price (in all models, except SPLA where it is slightly more expensive than Light User).
Can I deploy it in my existing environment?
Absolutely. As long as your environment is NAV 2009 SP1 or newer, you can deploy "Stratus" there, and have all of your end-users get access to NAV data and processes at the fraction of the cost usually associated with deploying ERP to the end user.
Can I sell it to my customers?
Of course you can. It's an add on, just like any other add on.
How does it cope with customizations?
Any customization that you have done to the page objects are understood by "Stratus", and are exposed to the web. "Stratus" not only exposes NAV data to the web, it also exposes the metadata, including customizations. As long as your customizations are available in RTC, you can run them in web (and of course, as long as they are not in the list of the things that are not yet supported).
Does it just replicate RTC or Classic experience on the Web?
Absolutely not. It does resemble RTC in most aspects, because I wanted user experience to be as much alike as possible, to enable easier training and adoption. "Stratus" adds some features which RTC doesn't have, and in the future it will ad plenty more.
Is this finished, are you done with development?
Release one is ready for public review. But development continues, and there are going to be a minor release every three months. There will be a major release every time there is a major NAV release.
How does it work, it must tap into NST, right?
No, it doesn't. It uses exclusively web services layer.
What does "Stratus" stand for?
The name "Stratus" is a name of a type of cloud, which matches pretty well a Cloud solution. "Stratus" also starts with strat as in strategy, and I want to position the Cloud offering as a strategical tool small companies can use to grow, as it provides not only simple tool for them to use, but also gives them a nice roadmap for the future: it's not just any kind of ERP, it's the Microsoft Dynamics NAV, which can allow them to take their database offline, and install it on their premises at any time if they outgrow the boundaries of the Cloud itself.
Is it available for a test drive?
It's not as of now, but it will be pretty soon. Most likely, it will open for public demo and test drive by general public on March 31. It won't be available as a download, but as a live web-site connected to a live database, where you'll be able to play around with it just like you can play around with Cronus.
Did you do it all by yourself?
Absolutely not. It was the work of my company and a partnering company who did the majority of front-end development. It took involvement of two MVPs as well (me included).
Can I get more info?
Sure you can. Just drop a comment.
P.S.
Yes, "Stratus" is the reason why I was a lazy blogger lately. And I'll probably stay somewhat lazy in that respect for the time to come.