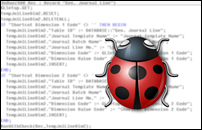 The bug with which I started this series is nothing critical. It manifests rarely, you can easily work around it. It's in the "so what" category.
But the one I'll talk about today is a tough beast, with not-so-easy workarounds that cause as much headache as the bug itself.
So, here comes bug #2: setting a date to 0D.