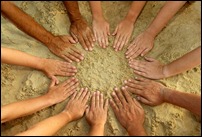 Thanks you all, who participated in yesterday's Microsoft Dynamics Community Adriatics launch event in Zagreb. I'm sorry that Live Meeting equipment could not be set-up in the Microsoft's big conference room, but I was promised that in the future maybe something could be done. I hope it doesn't mean moving to a smaller room where the equipment is already installed, because I prefer more in-person audience. In any case, I would like repeating this launch in the region, and I'll use this blog to let you know about it.
In my opinion, the launch was a success, there were more participants than I expected, and definitely more than registered.
[Post was updated on October 8th, to include more links and downloads]
Since I am still struggling with using the community tools at official Microsoft Dynamics Community Adriatics forum, I have uploaded my presentation files here:
What's New in Microsoft Dynamics NAV 2009: an overview of new features and functionality in NAV 2009, NAV 2009 SP1, NAV 2009 R2 and publicly known facts about NAV '7'.
Pregled readiness materijala za Sure Step: an overview of readiness materials for Sure Step 2010 for partners.
[Updated] Partner Readiness Overview: an overall overview of partner readiness materials and trainings, together with Partner Academy materials, and introduction of Adriatics Community CD#1 which includes many useful materials for partners from available partner sites.
Both presentations are in Croatian.
In the end, we had a nice and insightful discussion about Sure Step applicability in real life, project success/failure rates and influencing factors, and how to ensure the sales doesn't oversell, or doesn't overall drive the implementation through undeliverable promises and through over-customization of the solution. I hope we turn it into a presentation in the future. Any volunteers?
I hope you all who were there got what you came for, and I hope you used the survey forms to openly express your opinion on the direction this community should take. I'm looking to seeing you all again soon! (And all of you who were not able to come, but wanted to)
[Updated] Presentations can also be downloaded from Croatian IT PRO User Group community website, at the following address: http://www.mscommunity.org/materijali/prezentacije/
Also, Microsoft Dynamics Community Adriatics official forum has been launched at: http://www.mscommunity.org/forum/microsoft-dynamics/
Finally, the pictures from the launch event are available here: http://cid-73267401a61cf94c.office.live.com/browse.aspx/1.%20Community%20sastanak?nl=1&uc=11