So, it worked. I found just enough spare time to try out the crazy idea I mentioned in the last post. It's about control add-ins and events. In the last post I gave a tip about exposing the actual control as a property decorated with ApplicationVisible, which allowed you to directly access all properties and methods of the control.
However, if you wanted to do the same with the events, you had no other option but to manually create an event handler for each event type, then to add an event handler for the actual event from the original control, and finally to raise the event on your control add-in from the event handler for the actual control. You lost me already, so did I

This is what I am talking about. Imagine a button, and that you want to allow NAV to respond to its Click event. This is what you need to do: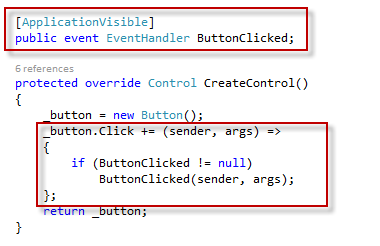 Might not seem too much, but consider that you must do this for every single event that you want to use, that it requires some rewrite-restart-redeploy-redesign-rebind workout to implement support for another event you forgot last time, and then it becomes an problem. Probably the ugliest part of it all is the fact that for C/SIDE to properly insert the new event triggers for an updated class, you have to unbind the Control Add-in, and then to re-bind it. This loses any C/AL code in previously existing triggers. Add to the equation the human error variable, which kind of readily pops up whenever manual code duplication is involved, and you'll have a lot of happy hours fixing the mess and juggling dlls and C/AL code back and forth.
How about this. How about not having to add anything at all to your C# source code, and not having to redeploy anything, and then to support any event you want just through a single line of C/AL code?

Yes. That's what this blog post is about.
Continue Reading
Trick: Subscribing to any Control Add-in event through pure C/AL